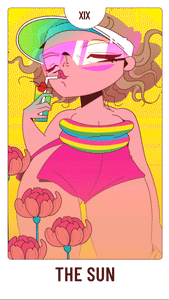 THE SUN Studio Killers Tarot Card Wallpaper
Tax included. Shipping calculated at checkout.
Studio Killers, The Sun Tarot Card

Cherry brings forward good fortune, joy, happiness and harmony. 
May the Sun shine brightly, filling your heart with love and glow warmly on you as you walk your Golden path.
Tarot Wallpaper a gift to you from Studio Killers. 
Immediate download.